Home of "The Orange Bird" – Bonneville's Fastest Ride-on 350cc Motorcycle – 170.519 MPH (2017)

<<< August, 2017, Bonneville Salt Flats – Utah – USA >>>
The TZ350 powered – Highwayman Bikes – "Orange Bird" Became the World's Fastest Ride-on 350cc motorcycle!!!
There is much to tell of this story! -stay tuned –
Cycle World article by Gregg Bonelli here:
Part1
Part 2
The Orange Bird was designed and created by Jeff Henise and Chris Glaister.
Wayne "Wobbly" Wright was largely responsible for the design of the engine.
As of the time of this writing 1/23/2018 The bike holds two AMA National Land Speed records:
350-APS-AG – rider: Jeff Henise – two-way timed mile average speed of 170.519 MPH
350-APS-CG – rider: Chris Glaister – two-way timed mile average speed of 163.292 MPH
Our 170.519 MPH record currently exceeds all  listed records (FIM, SCTA, and AMA) for 350cc ride-on motorcycles!
-THANKS TO OUR SPONSORS, ADVISERS, and CREW –
Sponsors:
Millennium Technology -Nikasil plating
Wobbly Pipes – Engine bits and advice
World Wide Bearing – Ceramic bearings
Works Performance – Shocks
Davies Craig – Electric water pump
Trophy Hunter Racing (mark hunter) – Tires and random support
Zoey – Graphics
Advisers:
Wayne "Wobbly" wright – Engine design
Bill Woods – Lay down bike specific advice
Michael Moore – General race bike and metal fabrication advice and help with some CNC machine work.
Ralph Hudson – General LSR bike design and racing advice
Jim Hoogerhyde – General LSR bike design and racing advice
Crew:
Trevor Somers – Major help on the salt
Paul lees – Major help on the salt
Trey Demarest – Transportation to the salt and help on the salt
John Patton – Major help on the salt
Michelle Piccinino – Emotional support – help on the salt
Isabela Sa – Emotional support – help on the salt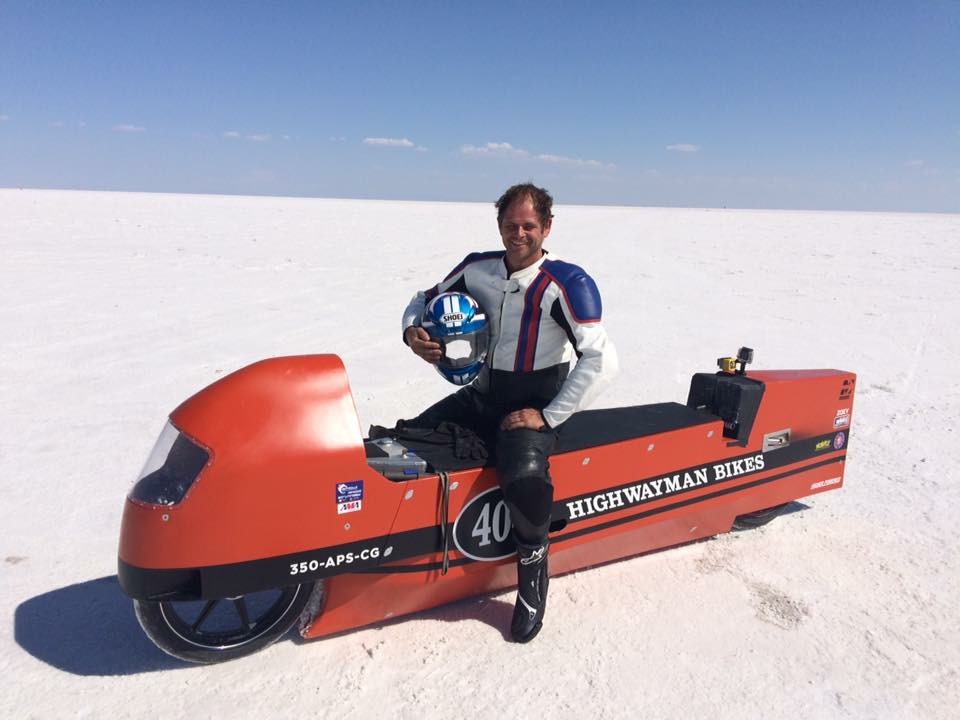 Jeff Henise
Chris Sa-Glaister

Wayne Wright and Jeff Henise at the Super Kart Nationals in  Las Vegas, NV